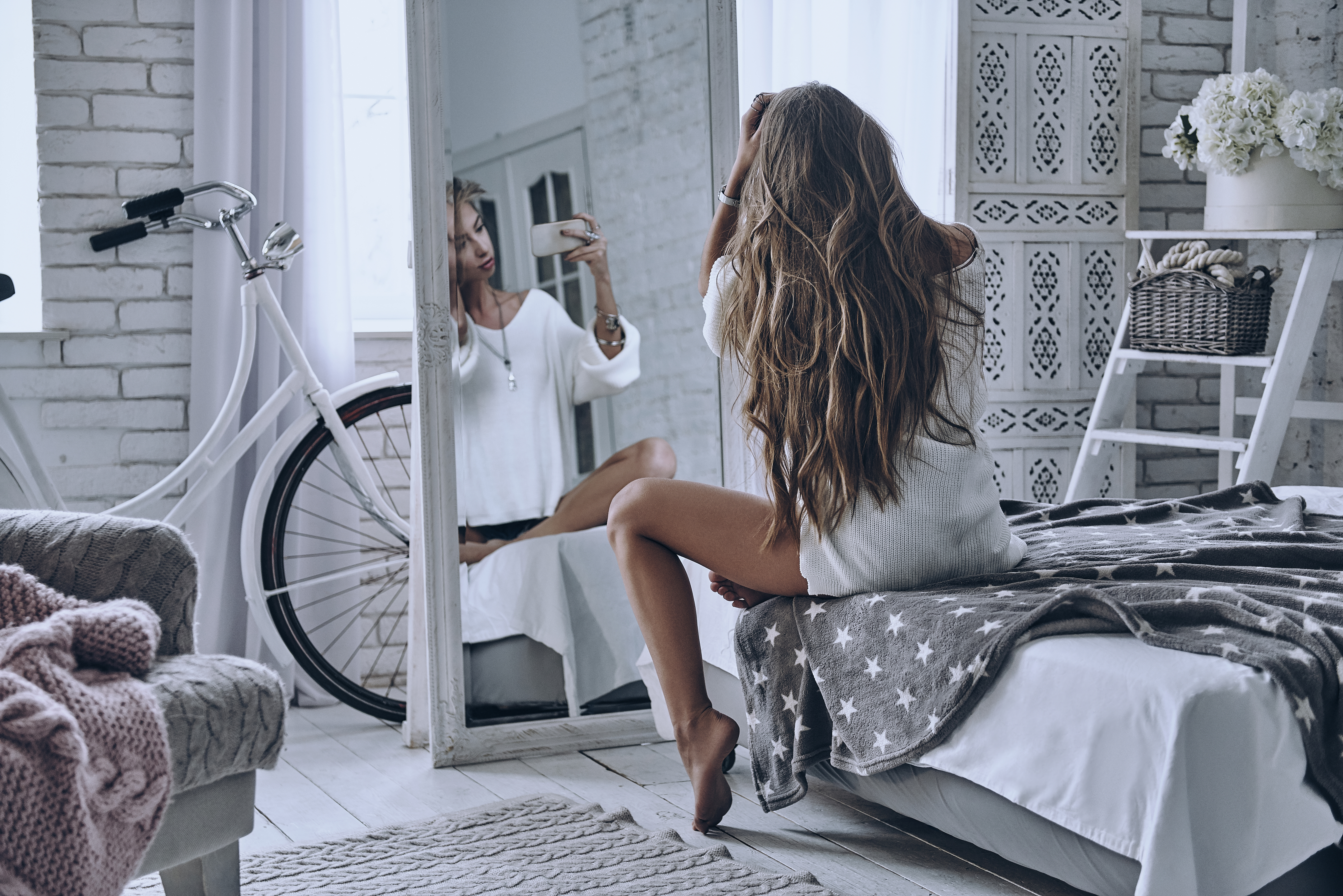 The way you look is your business card and having a top-notch photo book is very important in the escorting line of work. Also, knowing how to use social media in your advantage is a major plus, because it projects an image of luxury, sophistication, exclusivity and professionalism, that attracts the right crowd.
You want to present yourself as a classy, well-educated, elegant woman, that knows how to travel in style, how to appreciate fine-dinning and how to respect the proper etiquette when she's in the high-society. And you get to show all that in your photos and in the images you choose to present on your social media accounts.
Here are some tips to make every photo of yourself, a hit on Instagram:
When taking a selfie, hold the camera as far from you as possible
If you have a selfie-stick, you should definitely use it! The camera lenses on smartphones are wide angled, so they slightly distort the image. This is more visible when taking a selfie while holding the camera too close to your face, creating a caricature effect on your face.
So, minimize this fisheye effect by holding the camera as far away from you as possible.
Position the camera above you
Photos look better when are taken from slightly above, so position your camera above you. This way you get an angle that sweetens your face and you avoid making a chin first, image. A very important thing is not to push your head back, behind the shoulders, cause it will make your head look weird. Keep your head in a natural position, extend the arm and lift the camera up, and you'll have a great photo, perfect for your website's photo album or your Instagram account.
Make sure you have good lighting
When you want to take a selfie, make sure there is enough light to illuminate your features. The next step to have in mind is the angle of the light source, because a lower light source will illuminate your features evenly, while when the sun is right on top of your head this will cause shadows and dark contrast areas that will provide a less flattering result.
Always try to have the light behind the camera, so that your face can be evenly illuminated. So, check out the light source and try to look towards it. Keep in mind that the best natural light is the yellow light from sunset or sunrise, because it will give you a softer skin tone and it will sweeten your features.
Always try to smile
When you smile your face relaxes and it sends a good vibe to the viewer. It is also known that the photos in which you smile tend to be more pleasing to the one looking at them. Practice makes perfect, so take multiple photos because the more you learn to relax in front of the camera, and the more you get to discover your good angles, the better the results.
Edit your own photos
Learning how to edit your photos is a very important skill that comes in handy when you are an escort and your face is your working tool. Even the simplest tweaks on contrast, saturation, filters, cropping and so on, can work wonders on your photos.
Free editing apps that you must have in your phone
1. Snapseed
This is an advanced photo editing tool that can rival the desktop photo editors, because of its multiple features available.
Besides the classic tools like cropping, frames, texts and vignettes, this photo editing app also comes with a range of preset filters, and with the possibility of creating your own, personalized filter. What's great about this app is the fact that it also has: precision masking, allowing you to blur the background while you bring the foreground into focus, and a "Selective Adjust" tool that helps you adjust the saturation, contrast and brightness of only a specific area in the photo.
2. Adobe Lightroom
This is the gold standard of photo editing and management. What's amazing about this photo editing tool is that, while is an app created for professionals, because of its simplified interface, it can be easily used by all of us.
Adobe Lightroom CC comes with a full-featured photo editor, together with presets, exposure adjustments and watermarking.
3. VSCO (read viz-co)
This free photo editing app has some amazing filters that give that classic vibe to your photos, like they were taken with an analog camera. Beyond the filters, VSCO also has a vast selection of editing sliders that also include exposure and skin tone.
VSCO is an amazing app, ideal for both novices and professionals. Have it in your phone next time you want to post something artsy on your Insta or you want to adjust in an artistic way, your holiday photos or your selfies.
4. Photo Collage
Everyone should have a good photo collage creator in their phone, and this app is the best you can get for free. The Photo Collage app has thousands of layouts, a wide range of backgrounds and it offers the possibility to add text with customized fonts, colors and sizes. Try it out and have fun creating interesting collages for your clients.
5. Visage
This is the ideal photo editing app for the selfie lovers out there. In fact, it was created just for that: to help you adjust your selfies.
The Visage photo editing app lets you retouch your portraits with tools like smooth skin, reduce skin shine, whitening the teeth, reducing the bags under the eyes, adding makeup and so on.
Try it out and let us know if the tips above and the apps suggested by us, work for you.