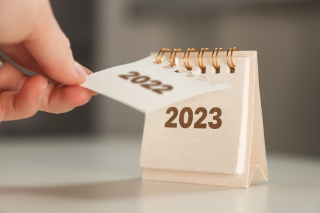 The end of 2022 is so close we can touch it, and what a year this was!
With its good and its bad, this year that is coming to an end has marked us, has changed us, has made us realize more about the things that make us angry, the ones that make us feel powerless and the ones that are making us feel strong and happy.
And, because we are so sick and tired of New Year Resolutions, that tend to put a lot of extra pressure on ourselves to stick to them, as if we don't have already enough on our plates, this end of December we want to suggest a game you can play with your close friends or family, or even alone, at the end of the day.
Let's call this game "Remembering 2022" and it's a game or honest contemplation of the year that is passing, with its good and its bad, its ups and its downs. And who knows, maybe we'll end up feeling better about the year to come, after this.
The "Remembering 2022" game is based on 5 questions, and the scope of it is for you to answer as honestly as possible and just how you feel.
Question no.1
What are the top 3 things you've done in 2022 that made you genuinely happy?
Think of what happened to you since the year has started and try to make a mental list (or write it down if it helps) of all the things that you did and that have brought you joy. Now reduce that list to a top 3 and focus on each moment.
Where were you? Try to envision how the sun was shining, how the waves were feeling against your skin, how the smell of flowers invaded your nostrils, how your heart was racing, how the fabric was feeling between your fingertips.
Relive the joy of the moment and the excitement and take that with you into 2023.
Question no.2
What were the top 3 moments when you've felt hurt, depressed, lonely?
Think of all those moments and reduce the list to the 3 most vivid in your memory. Now try to think of how you've felt and why you've felt that way. Maybe you've felt misunderstood, maybe you've felt betrayed, hurt, or lonely.
Now think of the things and persons that were there with you at that time, think of what they did to comfort you and think of how powerful you've been to overcome those moments. Take that sense of power with you in 2023.
Question no.3
If you can describe 2022 in a single word, what would that be?
Now that you've gone through the good times and the bad times of the year that passes, it's time to think of a label that best describes how this year has been for you. Is 2022 the year when you've moved into a new home, the year when you've discovered a new friend, the year when you've hit rock bottom and managed to pull yourself up, the year when you've made the most money, the year when you loved yourself the most?
Take that 2022 tag with you in the new year and think of the opportunities that it will bring you.
Question no.4
What are the moments you've been most proud of yourself?
Think back on the struggles, the hard decisions, the laughter, the milestones and find those moments, actions, or events that when looking back on are making you feel so proud of yourself. You did that! Now take that sense of pride with you in 2023!
Question no.5
What did you do in 2022 that you would not do ever again?
Maybe it was a bad decision, maybe it was a moment when you've wronged a friend, maybe you've jumped from an airplane, dived with the sharks, went on a high-speed bike ride, or did something to put yourself in danger. Or maybe you've booked too many clients, leaving little room for your personal life, or estranged from your friends or family.
It's important to know what decisions were not ok to be made so that you can learn from them. Take that knowledge with you in 2023 and make it a better year for yourself!