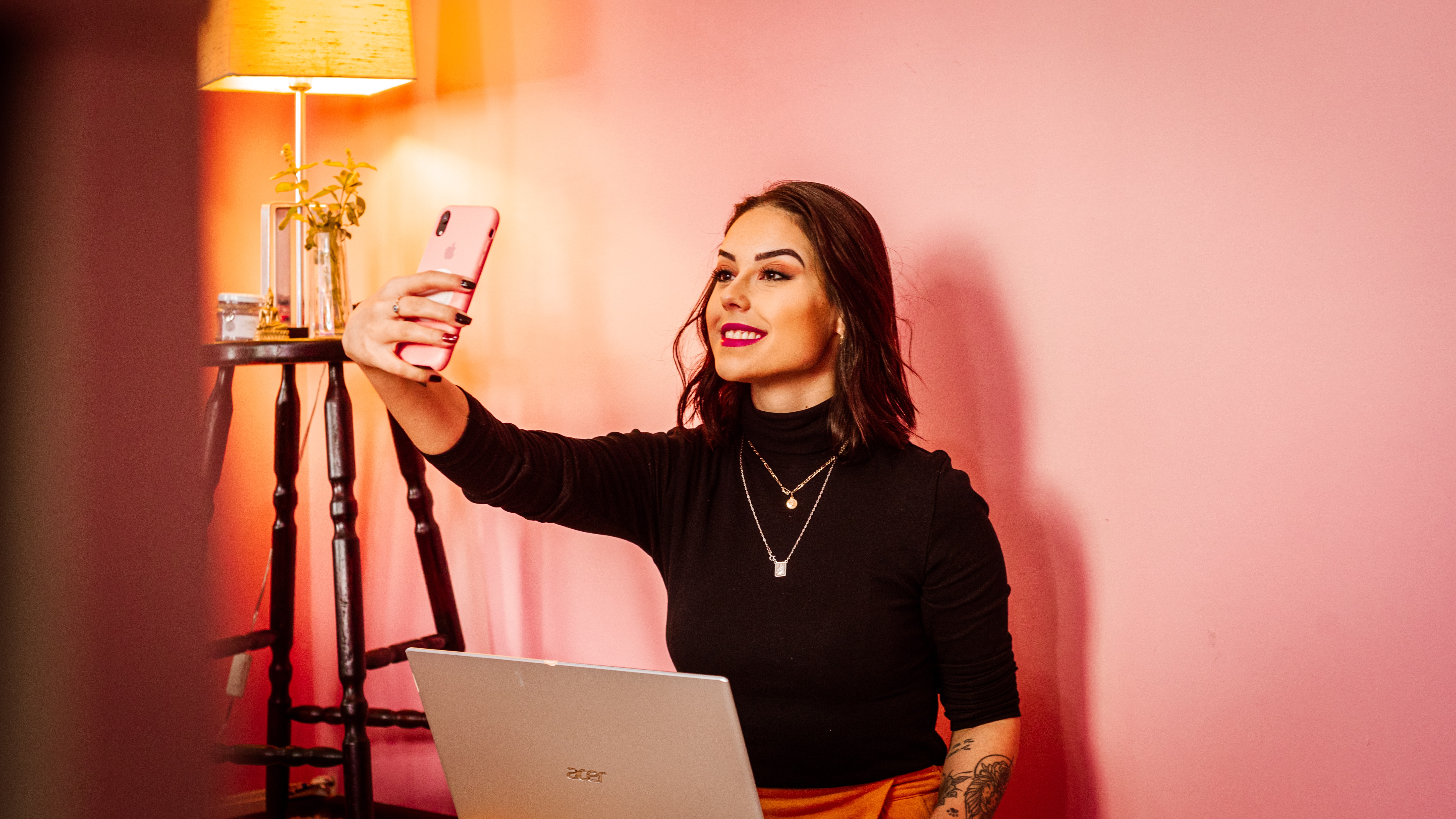 Forget about professional photo sessions, where you wear intense makeup, dress like you're ready to go to the event of the century, and those model-like poses meant to look seductive and mysterious.
The future is all about looking sexy while posing in a natural environment, with no crazy props or fake smiles. Clients are more and more into authenticity and realness. The photos that are driving most men into booking a date are not the ones that seem taken out of a museum, those peach-perfect smiles and outfits that look intangible. The photos that get the most bookings are those that manage to show your true self and that discretely suggest a fantasy that might come to life.
So, stop wasting money on professional photo shoots, or post-pone creating an escort profile thinking that you don't have the right photos for your photo gallery, and start learning the power of self-made photo sessions.
If you already consider yourself a selfie-pro then this will be easy for you, if not we have some step-by-step suggestions to take the best selfies that will get you fully booked.
Step 1 - Clean the room
Start by cleaning the room you're about to take pictures in and find a neutral spot for your photo shoot, a place that has a neutral background, discreet colors, and nothing too flashy or colorful to distract the attention from you. Take the dirty clothes to the bathroom, throw away empty rappers, receipts, and so on, vacuum the carpet and clean the mirror!
You can stage a comfy nook to take your photos – a little couch with a small table next to it that has a lit candle and a book or a coffee cup on, anything that sends the right signal – with me you'll feel pampered, relaxed, you'll feel like you've entered a safe place, full of warmth and pleasure.
Step 2 – Create some outfits
Think of your escort persona and your escort services and dress for that part. If you offer the ultimate GFE, or you give the "girl next door" vibe, or if you are into luxurious lingerie, or are more of a sporty gal, dress according to your personality because this way you will feel confident and sexy and that will also show in your photos
Step 3 – Lighting is everything
Natural light is the best, so make sure you have natural light in front of you. If your windows are not big enough to let the light come in buy yourself a ring lamp or a ring light, and you have it all covered. Don't make the light too bright though because you don't want to squint your eyes. Also, keep in mind never to have lighting above or below you if you don't want awkward, harsh shadows across your body.
Step 4 – Adapt your posing to your clothes
Posing dressed in a sexy dress is way different than posing in a jumpsuit, with messy hair, trying to look charming and hot. If you want to hide your tummy, try posing standing on a sofa, with one leg beneath you and one in front. This way the belly is not shown, and your legs will look slim and long.
Always go for clothes that are suited to your personality and try to pose in a manner that represents you. Trying to be someone you're not, will show in the photos and the clients will also see it. Being natural and relaxed is the ultimate test of confidence and sex appeal.
Don't pose as a dominatrix if you're GFE material, and don't look all candid and sweet if you are more sporty or aggressive in real life. Go for who you are, and guys will be instantly attracted.
Step 5 – Practice your look
When taking a selfie try not to look straight into the camera, instead look at the phone for example, for a more natural gaze. Also, try not to look too intense, or stare, because you're going for the cute and sexy vibe.
Try this exercise that also works for great body positivity. Start every morning by looking at your naked body in the mirror. Look at it with admiration and gratitude, instead of looking for things to criticize focus on the things that you like. Also look at your face, smile, take selfies and see what angles are good for you, how to smile and how to hold your head for the perfect photo.
By doing this on a regular basis you get to know your body to perfection and all its strong points and good angles, and when you'll take photos, it will come easier for you to strike a perfect pose.
Image: https://unsplash.com/photos/ZKJQCWsKmPs