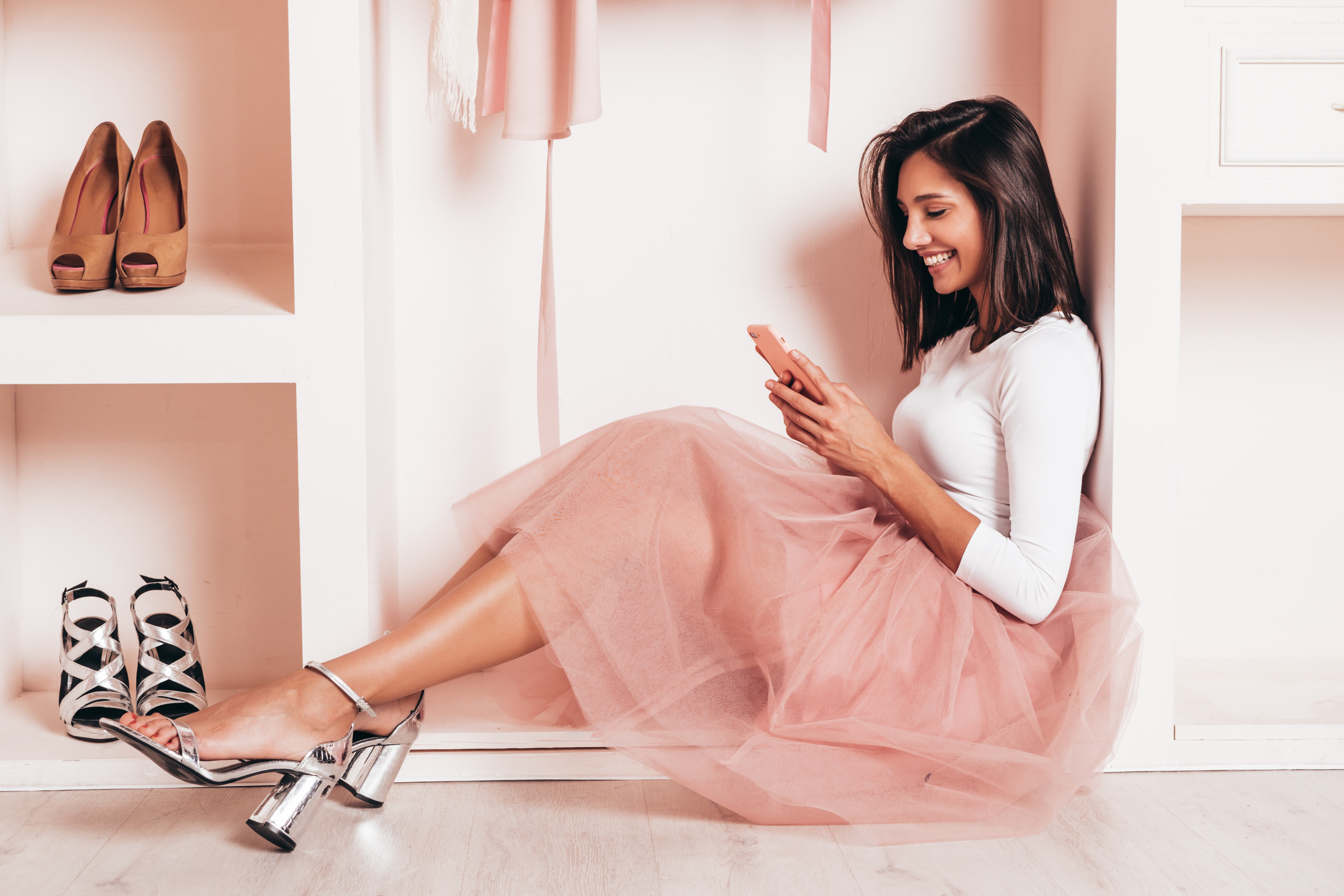 Looks are highly important in the escorting world. This is a fact we can't deny, because until you reach an intimacy level or a conversation level with your partner, he guides his decision of booking you, by your appearance alone – by the way you dress, the way you choose your clothes, the level of sophistication and class you're expressing.
And if you are looking for more important gigs, with men booking you to join them at a social event, or on their business trips or as a companion on an exotic vacation, than the way you present yourself is highly important, because he is looking for someone to pump his image and make him feel special and admired – envied by man and desired by other women.
But what can you do to join this world of big players, financially potent and eager to make their success be seen by others, when you don't have the means to play in the big league?
Well, you have to look rich by paying less on exclusive clothing items. And there are some tricks you could use to obtain that elegant, expensive look, without spending your rent money!
Create your own capsule wardrobe
There's a saying that goes like this "We're too poor to afford cheap things". And what that saying means is that by buying cheap pieces of clothing we'll have to buy more often and spend more money on them in the long run, because cheep clothing it deteriorates easily and has a mass-market cut and feel that gives you away.
So, instead of buying what's trending right now in the fashion industry, go for timeless pieces and invest in high quality ones that will last you years to come without losing their shine or quality. We are talking about a classic white shirt, a navy blazer, a little black dress, a trench coat and so on. Then, after you've got the important pieces, you can combine them in a multitude of ways, creating lots of different outfits.
Also, as an extra tip, it is a good idea to invest in high waist bottoms – jeans, skirts, shorts, because are more flattering on the body and it gives your outfit a more tailored look.
Premium clothes from mainstream retailers
The quality of the fabric is what makes a piece of clothing stand out and express sophistication, while also passing the test of time. But you don't have to sell a kidney to buy an expensive cashmere sweater from a famous designer. Instead, you can shop from the premium collections of the high street brands such as Zara or H&M.
A silk skirt, a swede coat, a cashmere sweater, all these bought at an affordable price will elevate your outfit, making it stand out and offering you a classy, elegant look, allowing you to join the high society.
If you are afraid that a sweater can look plain, our advice is to combine it with a white blouse underneath, and you'll instantly get a sophisticated look.
Follow the 3-color rule
This rule states that you should stick to a pallet of three colors when dressing up, with two of them being neutrals such as white, grey, beige or navy. By following this rule you'll find it easier to create a cohesive, clean and polished outfit.
Avoid the overuse of strong colors, metallic accessories, sparkles, zippers and so on, because it will make your outfit look cheap. Also, keep in mind to go for pieces of clothing with a hidden zipper, for a classier, more put together look.
Neutral tones such as white, beige, charcoal grey, navy, mocha, and olive will always look chic and highly sophisticated. And buying a high-quality piece of clothing in such a neutral color will assure you that it will last in your wardrobe for years to come, elevating a plain look or more affordable pieces of clothing.
Invest in a lux brooch
You may ask yourself why a brooch and not a nice ring, or some earrings. Well, it's simple, because a brooch is versatile and a luxury brooch such as the world-famous Channel brooch will make any neutral outfit stand out. You can use the brooch on sweaters, blouses or hats and it will make your basic outfit look expensive and distinguished.
Make a basic shoe look rich
You can do that by adding jewel clip-ons embellishments on your basic shoes, making them more versatile and look expensive. You can also invest in a classic, timeless shape like the pointy toe shoe. Also, invest in a high-quality pair of everyday shoes because you will wear them more often and you don't want to have to change your shoes every month.
Change the buttons
The secret to turning a high street item into a fashion item is tailoring that piece of clothing by changing the buttons. This will instantly elevate your look and make it stand out. Change the plastic buttons with metallic ones or pearl buttons and see how the outfit changes in front of your own eyes.
Always wear underwear that fit you right
Invest in well fitted underwear so that your look can be impeccable. A bra that is perfectly fitted will raise your bust line and make your boobs perkier, while an invisible panty line will help you get that chic look that you were looking for.
One versatile handbag
You don't need a lot of expensive handbags to look elegant and rich, instead opt for one classic, everyday handbag that can get you through all seasons and can be versatile enough to be used both day and night. A medium size bag, in a black or nude color is the most versatile option.
Avoid handbags with accessories such as fringes, embroidery, zippers, metal, or jewelry clasps. If your bag is not top quality, cheap accessories are the ones that are giving you away because most often are of poor quality.
So, to recap – invest in some timeless, good quality pieces of clothing, one versatile handbag and an accessory that can act as a center piece of your outfit and you're good to go! And most important thing of all, choose clothes that make you feel good, that you can wear comfortably, and that are a reflection of your personality. This way you will look natural, classy, and sophisticated without trying too hard!
What are your tips and tricks on looking sophisticated without spending all your monthly income? We can't wait to hear your suggestions!