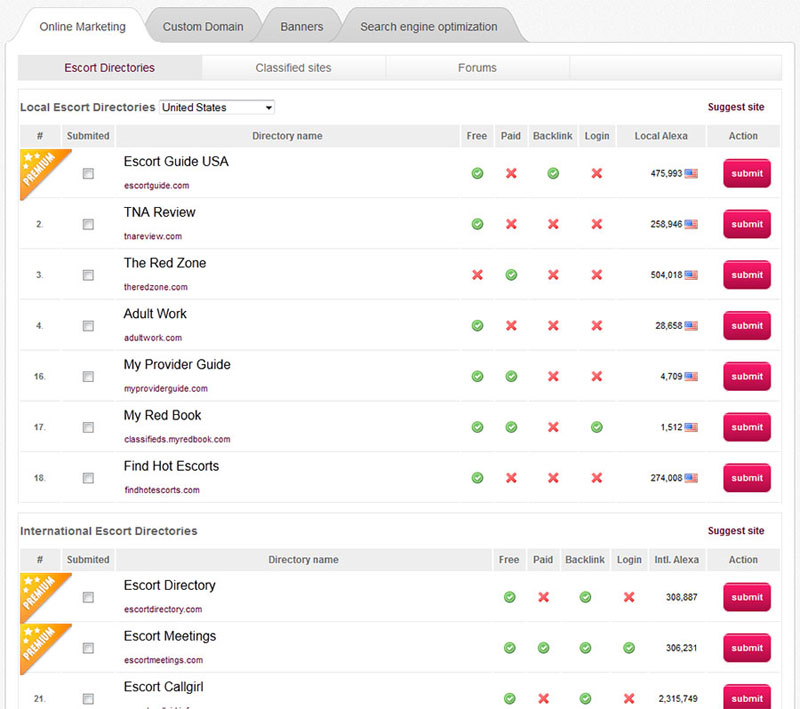 Escortbook is the escort industry's 1st content management platform, providing you with the best online marketing tools available. Escortbook is not just an ordinary site; it is a powerful slingshot for your business. It also stands as and aid kit, providing useful and efficient modules to help you in your business development from the early phases to the later marketing and advertisement planning phase.
With this in mind, we launched the new "Online Marketing" tool, a feature that will make your life easier and will steer your platform towards serious traffic.
Site directories are an important part of any online venture and are basically portals for promoting your business and that's exactly what "Online Marketing" helps you accomplish in one concentrated space.
This new and powerful tool provides a large list of site directories, all ranked according to traffic, good ranks equalling high traffic. You will not have to waste your time on low rate sites anymore. You will have top traffic options right in your backyard!
The advanced search filter will let you find exactly what you are looking for. Whether paid or free, login-required or not, once you made your choice, simply click the submit button and see your traffic skyrocket. A checkbox next to the site will be automatically selected so you will know exactly what directories you submitted towards. We keep our lists constantly updated, so you will have access to top solutions on a daily basis and, as we evolve, you will have the possibility to receive vouchers with discounts when submitting to our affiliate site directories.
In case you find a good site directory that is not on our list, you can always use the "suggest site" option to add a new one. The better equipped we are, the greater your gain from Escortbook will be!
Having a platform with connections to site directories is a huge advantage in terms of accessibility as your platform will be even more search engine optimized. In order to get there, we divided our directory lists between local and international, which in turn brings you even more focused results based on your region. The same applies to our forum list. You will raise awareness, you will have direct access to focused targets by interacting with your users and potential clients.
In one detached view, no matter how you manage your site on our platform, the intuitive tools will only show you more and more ways to make your business more profitable. This is Escortbook.